Archives by date
You are browsing the site archives by date.
December 16, 2022
The Canada Graduate Scholarships – Michael Smith Foreign Study Supplements (CGS-MSFSS) Program supports high-calibre Canadian graduate students in building global linkages and international networks through the pursuit of exceptional research experiences at research institutions abroad. By accessing international scientific research and training, CGS-MSFSS recipients will contribute to strengthening the potential for collaboration between Canadian and […]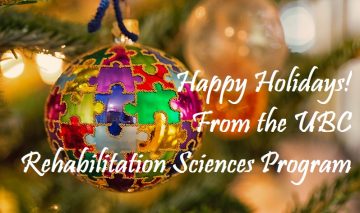 December 16, 2022
Happy Holidays from the Rehabilitation Sciences Graduate Program! The Rehabilitation Sciences Program will be closed from December 19, 2022 to January 2, 2023. We wish you all a wonderful holiday season full of warmth and restfulness. See you next year!
December 15, 2022
SSHRC Talent Award The SSHRC Talent Award recognizes outstanding achievement by an individual who, on April 1, 2023, holds a SSHRC doctoral or postdoctoral fellowship or scholarship. The Talent Award ($50,000 value) is given to an individual who maintains academic excellence, has a talent for research and knowledge mobilization, and has demonstrated clear potential to be a […]
December 13, 2022
British Columbia Network Environment for Indigenous Health Research (BC NEIHR) To develop research skills and assist with student burdens related to financial, family, community and cultural responsibilities, the BC NEIHR supports Indigenous (First Nations, Métis and Inuit) graduate students and postdoctoral fellows by annual competitions for Master's and Doctoral scholarships and biennial (every two years) […]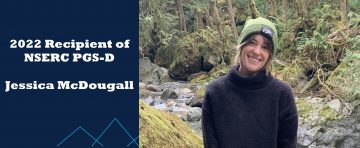 December 13, 2022
Congratulations to Jessica McDougall for being awarded the NSERC Postgraduate Scholarship-Doctoral (PGS-D) as part of the 2021-22 Canada Graduate Scholarship-Doctoral (CGS-D) competition! The NSERC PGS-D program provides financial support to high-calibre students engaged in a doctoral program in the natural sciences or engineering. As part of the federal CGS-D program, theses awards promote continued excellence […]
December 12, 2022
Research Training Awards are available to highly-qualified graduate students at the master's and doctoral level. To qualify, applicants need to be engaged in a full-time graduate studies program with a B.C. university. International students are welcome to apply. These awards enable students to undertake research training with a focus on workplace health and safety. Value: $20,000 […]
December 12, 2022
The Friedman Award for Scholars in Health is open to any UBC graduate student or medical resident studying in the area of health. 'Health' is interpreted very broadly, and includes health promotion and disease prevention, mental health research, laboratory sciences related to medicine or health, public health, health services research, or any area intended to impact human […]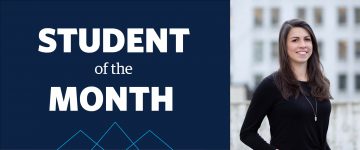 December 1, 2022
Name: Thalia Otamendi Program: PhD Supervisor: Linda Li Tell us a little bit about your lab! My lab setting is unique because I am co-supervised by Dr. Linda Li (RHSC) and Dr. Noah Silverberg (PSYC), and I also work out of the Rehabilitation Research Program at G.F. Strong. This means I am a member of three […]
December 1, 2022
Name: Andrew Ramsook Program: Doctor of Philosophy in Rehabilitation Sciences (PhD) Graduated: 2021 Dissertation: Sex differences in voluntary activation of the diaphragm How would you describe your research project in the UBC Rehabilitation Sciences program? I completed both my MSc and PhD in the Rehabilitation Sciences program at UBC. My overall research was based around […]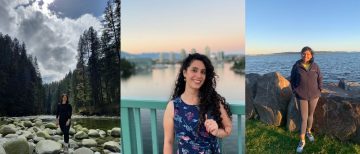 December 1, 2022
Meet the newest RHSC Internal Award Winners: Rebeca Hernández Gamboa (Louise McGregor), Melika Kangarani-Farahani (Margaret Hood), and Himani Prajapati (Jane Hudson). Each year, the Graduate Programs in Rehabilitation Sciences distribute financial awards to deserving students. This funding includes bursaries, scholarships and prizes and fellowships. In most cases, these awards are judged by faculty members of the Rehabilitation Sciences […]